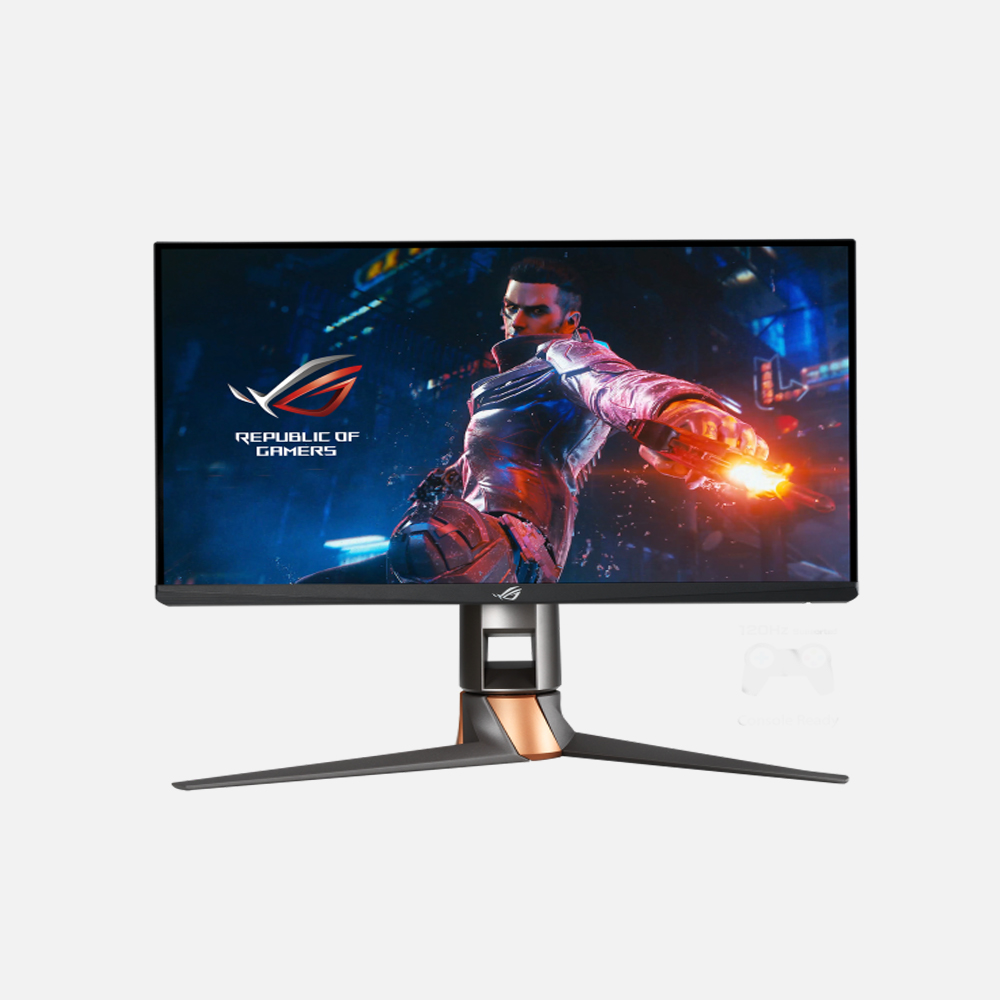 ASUS ROG SWIFT PG259QN ( 24 inch Full HD 360Hz Fast IPS )
17999 EGP
Starting our summary with an adrenaline-shocking shot: the monitor is 360Hz with an IPS panel! Okay, till you process this shock, let me explain some technologies and details. The monitor comes with a G-Sync processor with breathing technology (airflow). The Game Visual and Game Plus make big, big sense in your game. Premium quality and setup cleanliness thanks to the cable management capabilities of the monitor. Probably, you have processed the shock at first. So, what are you still waiting for?
Compare
Description
Additional information
How to Order
Reviews (0)
Description
360Hz! Finally, it's true. Not only 360Hz, but it's also an IPS panel with 1ms response time. The power of this monitor cannot be described because it's never been done before. The buttery smooth experience with the 360Hz will work like magic in CS:GO, Valorant, and every other FPS game invented.
It's a 10% for the high refresh rates to meet with an IPS panel, especially if it's 360Hz, obviously! But here we are talking about 360 frames per second in esports games with a fast IPS panel, which prevents any sacrifices of colors or slow response time of lower refresh rates. Nearest to perfection.
The ROG Swift targets the passionate gamer who wants to try the monster level of competitive gaming and be the only one in-game experiencing 360Hz. So when this passionate gamer is powered by the ROG Swift's 360Hz and 1ms response time, with the first win for the first time, you can really feel the dopamine meeting passion.
FLAWLESS & UNMATCHED SETUP
The monitor is really willing to give you every single advantage. Even the cable distraction problem is solved. You can easily move the cables through the hole in the stand of the monitor, and boom, you have a literally clean sight with no distractions. Also, it will benefit you if you are a content creator and filming videos with Aura Sync RGB sync all the setup with the monitor and the perfect cable management the monitor offers. Really, what is missing from this monitor?
The monitor offers really lots of technologies that will help you and give you extra of the extra you already have. One of the eye-catching technologies is Game Plus technology, which has a stopwatch to tell you the time you've taken to complete the round or training session to improve yourself more and more. A timer to limit your gaming sessions and rest between them for maximum performance every game, the ULMB also. It's really insane that you have a G-Sync processor with this technology to prevent any 1% chance of stuttering or motion blur.
With Game Visual FPS on, the monitor increases the contrast to brighten up the dark areas and shadows to see every camping enemy and slay them. That will be a little bit of a big problem for your enemies 👀.
Quick Compare
Frequently Asked Questions
Additional information
| | |
| --- | --- |
| Brand | Asus |
| Screen Surface | Flat |
| Screen Size | 25" |
| Max Resolution | 1920 x 1080 |
| Panel Type | IPS |
| Refresh Rate | 360 Hz |
| Response Time | 1 ms |
| DisplayPort | DisplayPort 1.4 x 1 |
| HDMI | HDMI 2.0 x 1 |
| USB Ports | USB 3.2 Gen1 Type A x 2 |
| Audio Jacks | Headphone Jack |