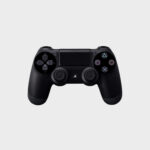 PS4 Dual Shock Black
1406 EGP
Precision Control offering players absolute control over all of their games.
Sharing at Your Fingertips: The SHARE button allows you to upload gameplay videos and screenshots or live-stream your gameplay while the game is in progress.
Compare
Description
How to Order
Reviews (0)
Description
The DUALSHOCK Wireless Controller for PS4 gives you what you want in your gaming from precision control over your games to sharing your greatest gameplay moments with your friends while providing easy recharging so you are always ready.