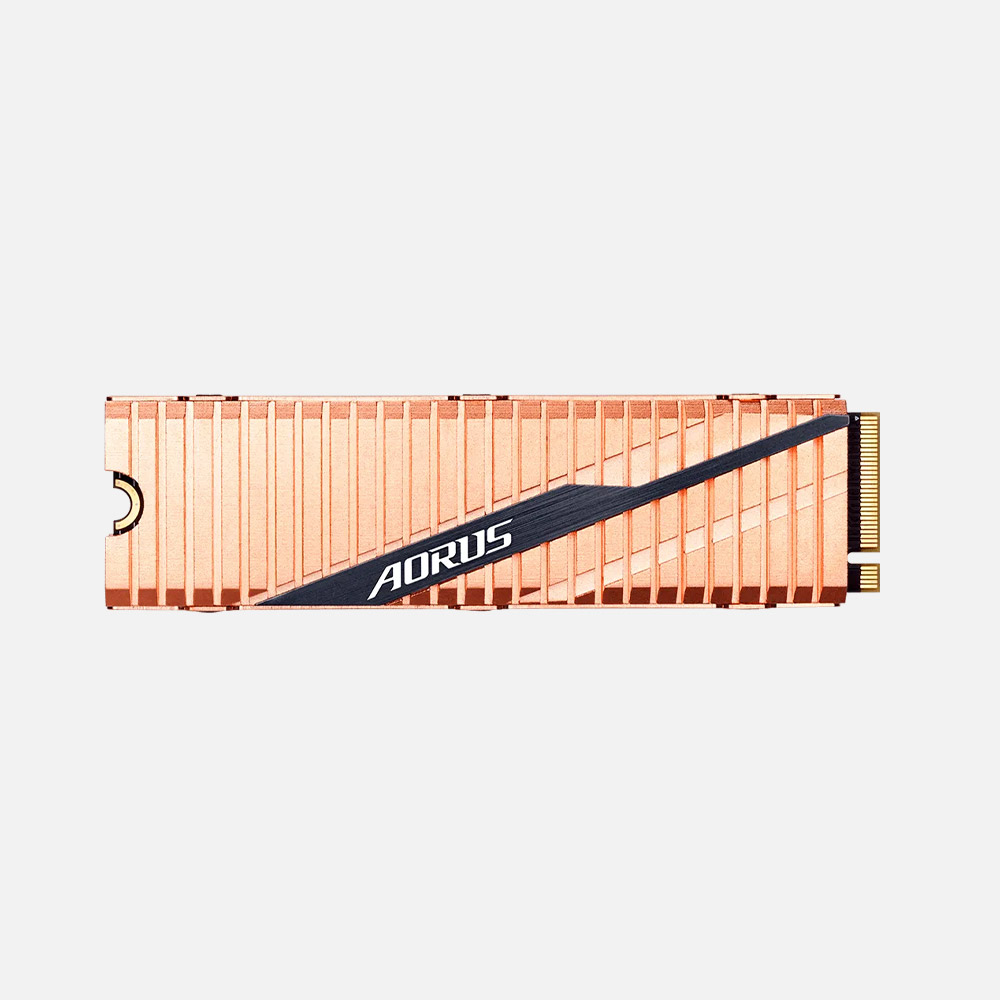 SSD-M.2-AORUS-NE6500GTTD-NVME-GEN4-500GB
3450 EGP
Speed: 5000MB/s Read speed, 2500MB/s Write speed.
Capacity: 500GB
Interface: PCIe NVME gen 4.0
Warranty: 1 year 
Compare
Description
Additional information
How to Order
Reviews (0)
Description
Aorus, we are just cooling an SSD here. 
Aorus took the cooling for their SSD to the next level a bit, with a dual-sided copper that improves the cooling by 16% which is a lot when talking about a gen 4 SSD with 5000+ MB speed, as well as high conductivity thermal pads that take the heat from your SSD till the efficient copper heat spreader, and that's pretty reasonable also because your SSD is put inside a PC which contains high heat production, so it's pretty reasonable from Aorus to protect your SSD,
Also, another pro about this SSD is it's directly compatible with your PS5, so if you want to extend your PS5's storage this will be the best pick as it's the closest SSD to the PS5's SSD.
Aorus Tool Box.
Aorus also added software that you can monitor the status of the SSD storage unit, as it provides you with general information about it such as the model name, FW version, performance level, ways to improve performance, as well as the temperature using a thermal sensor unit. In addition, there is a Secure Erase feature that allows the user to erase all data, so you guarantee that your SSD is performing at its peak without installing other apps or programs.
Aorus' warranty.
The Aorus GEN4 SSD comes with 1-year local warranty, so don't worry about it.
Hankerz recommendations.
Our recommendations for the Aorus GEN4 :
1- We don't recommend using the Aorus GEN4 with Intel 10th gen or less/ R3 4000 or less/ R5 2000 or less because all these processors support PCIe NVME gen 3.
2- We recommend investing in this SSD if you are a: professional content creator for the preview in the timeline and the speed in projects/you are a professional gamer and streamer willing to play Cyberpunk or Starfield you will experience ultra-fast loading screens, or if you need an extension for your PS5's storage, the Aorus GEN4 will be the perfect choice for you.
Additional information
| | |
| --- | --- |
| Model Name | AORUS NVMe Gen4 SSD 500GB |
| Capacity | 500GB |
| Interface | PCI-Express 4.0 x4, NVMe 1.3 |
| Speed | up to  5000 MB/s Write speed : up to 2500 MB/s |