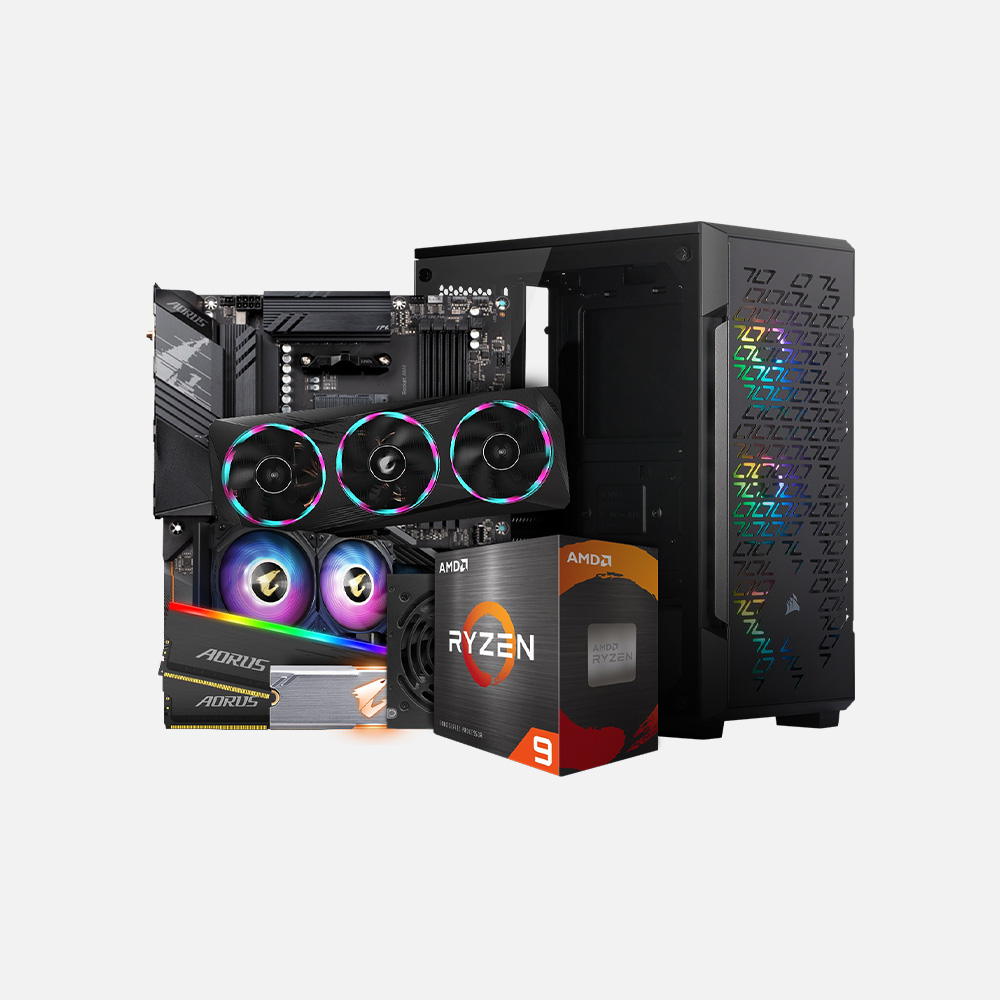 HIGH END GAMING (AORUS) PC BUILD
48000 EGP
Componants:
Processor: Ryzen 9 5900X
Motherboard : X570S AORUS ELITE AX
Vga :Aorus RX 6700XT Elite
Ram: Aorus 2X8GB 3333Mhz RGB
SSD : AORUS RGB M.2 NVMe SSD 512GB
Case + PS :Corsair 220T + 750W Bronze
Cooling :Aours-WATERFORCE X-240MM
Compare
Description
How to Order
Reviews (0)
Description
Ryzen 9 5900X Gaming PC Build
Proccessor
Ryzen 9 5900X
A fast and easy way to expand and accelerate the storage in a desktop PC with an AMD Ryzen™ processor.
For the best possible VR experiences, AMD offers select Ryzen™ VR-Ready Premium processors.

Motherboard
X570S AORUS ELITE AX
Looking for a motherboard that is affordable and can handle your high-end processor? The X570s is for you. With the support of the latest generation of AMD processors, this motherboard was built with gamers in mind. It comes with 6 SATA ports and 2 M.2 ports, so you'll have everything you need to store all your data in one place. Plus, it also supports up to 128Gb of DDR memory which allows you access every game on the market without worrying about lag.


VGA
Aorus RX 6700XT Elite
With immersive gaming technologies and support for DirectX® 12 Ultimate, AMD Radeon™ RX 6700 XT graphics cards draw you into the action. Experience 1440p gaming with realistic lighting, shadows, and reflections along with rich detail, thanks to DirectX® Raytracing (DXR), variable rate shading (VRS), and AMD FidelityFX features, optimized for AMD RDNA™ 2 architecture.
The WINDFORCE 3X cooling system features 3x 80mm unique blade fans, alternate spinning, 5 composite copper heat pipes direct touch GPU, 3D active fan and Screen cooling, which together provide high efficiency heat dissipation.

SSD
AORUS RGB M.2 NVMe SSD 512GB
With the new NVMe interface controller, AORUS RGB M.2 SSD delivers blazing speed up to 3480MB/sec sequential read, and up to 2000MB/s sequential write. Furthermore, the heatsink keeps controller and memory temperatures low, ensuring that SSD performance won't be compromised . This is particularly important to gamers since components heat up significantly during game play. Get ready to enter the next generation of computing, with faster and smoother in game streaming and graphic intensive rendering.

Cooler 
Aours-WATERFORCE X-240MM
EXCLUSIVE CIRCULAR LCD DISPLAY MODES
Customize your screen! The LCD display have brand new enthusiast modes and a special Chibi Time Mode. It also supports playing your own MP4/GIF/JPG formats for even more customization.

Case + Power supply
Corsair 220T + 750W Bronze
This product is designed to cool all the components in your PC, and it has the six fans with a specific airflow: one inairflow and two outairflows. Corsair's 220T ATX case has been designed to maximize space, allowing you to bring both your high-performance components and your gaming lifestyle together. It's built for users who are serious about their PC gaming experience, and with an ATX motherboard version that gives you room for expansion, it'll be ready for whatever set-up you choose.


For more Gaming pc build visit Hankerz Gaming