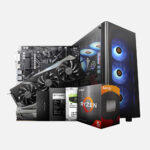 Mid Range gaming pc build 2
21000 EGP
Components
Processor: Ryzen 5 5600x
Motherboard: GB B450M-DS3H
Vga: Gigabyte RTX 3050 Gaming OC 8GB GDDR6
Ram: 2x Patriot VIPER 8GB 3200MHz DDR4
SSD :PNY CS900 120G 2.5 SATA III
Case + PS :Thermaltake V200 + 600W
HDD :1tb
Compare
Description
How to Order
Reviews (0)
Description
Ryzen 5 5600x Gaming pc build
Proccessor
Ryzen 5 5600X
AMD's fastest Ryzen processor for gamers ever. The new Ryzen 5 5600X has an impressive 12 threads, making it ideal for tackling heavy workloads and multitasking in style. This 6-core CPU comes with a 3.9GHz Turbo clock speed and a 65W TDP which makes it very efficient so that you can get more  done with less power consumption. If you are looking for the best processor to help make your work smoother and easier then this is the perfect affordable option for your desktop computer desktop builds.
Motherboard
GB B450M-DS3H
What's not to love? That's right, nothing. This motherboard supports up to 4 slots of DDR4 RAM, has 5 sensors for monitoring your temperature and has 2 headers for controlling fans,It also comes with an M.2 slot, USB 3.1 ports, Wi-Fi capabilities and more! It can also support either SATA or PCIe drives for an additional boost of speed in your rig. Not only does it have gold boards' design, but it also supports AMD Ryzen 2000 series processors. What else could you want?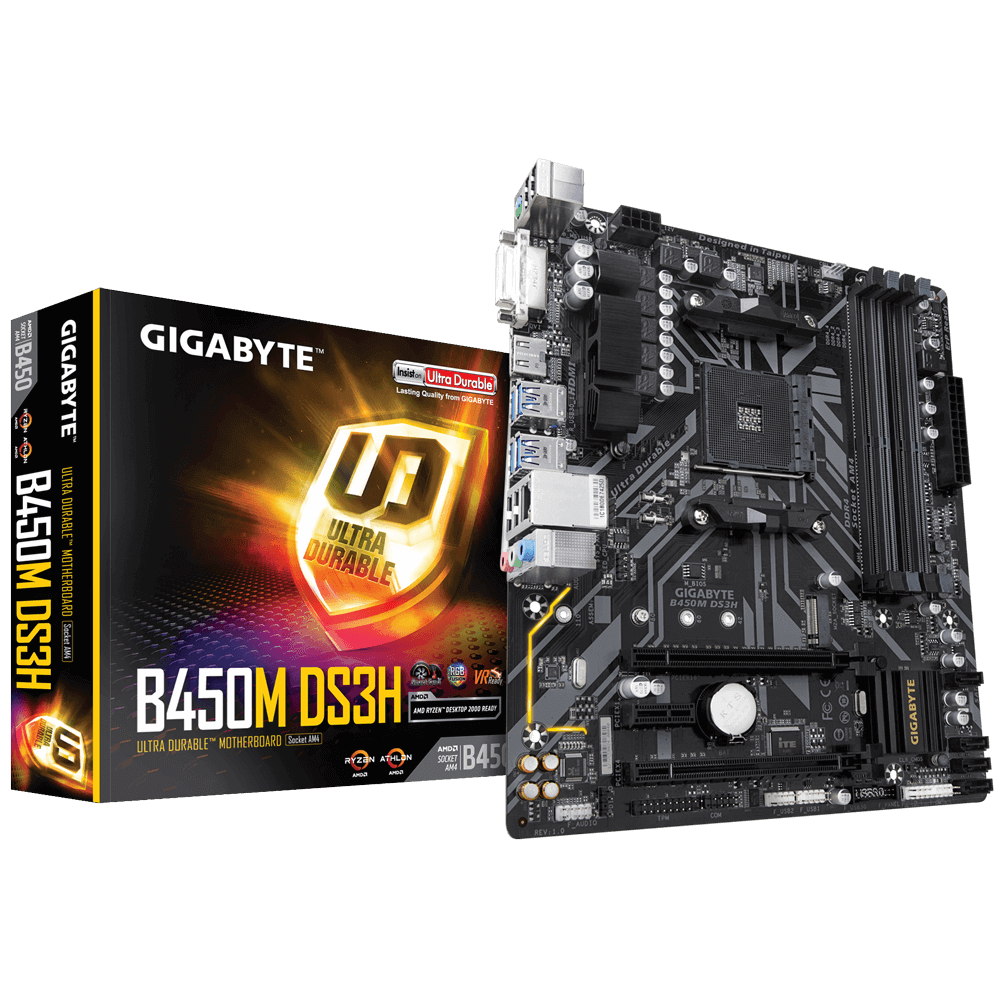 VGA
Gigabyte RTX 3050 Gaming OC 8GB GDDR6
Behold the brilliance of the ASUS Dual GeForce RTX™ 3050 OC Edition 8GB graphics card.
With 2 fans and powerful stainless steel material, it is the perfect combination of design and
power – especially with with video memory 8gb GDDR6 and 2560 cuda core to help you run digital max resolutions with 7680 x 4320. The 3050RGB lighting not only brings a beautiful
glow but also adjust according to your gaming needs, giving you top-notch performance in any scenario.

SSD
PNY CS900 120G 2.5 SATA III
Give your hard drive a serious performance boost with the CS900 2.5-inch SATA 3 SSD. The CS900
SSD is plug & play, making it easy to replace your old or slow HDD in just minutes. You'll notice
a significant improvement in system performance and computer responsiveness – up to 30 times
faster than an ordinary HDD.
Case + Power supply
thermaltake V200 Tempered Glass Edition
The Thermaltake V200 Tempered Glass Edition is a sleek and stylish case featuring a single 120mm high performance fan offering basic cooling for system components.
No more struggling with cable management! Thermaltake V200 Tempered Glass Edition
case is designed to keep everything neat and tidy, with plenty of adjustable storage space
it makes storage easy. The large size tempered glass panels on both sides improve the lighting
as well as giving you an enjoyable view of your system at all times without opening the side
window. There is also a dust filter for each fan included to help keep your set up clean and
cool. With support for ATX motherboards and an amazing airflow system, V200 Tempered Glass Edition is all you need for a great experience!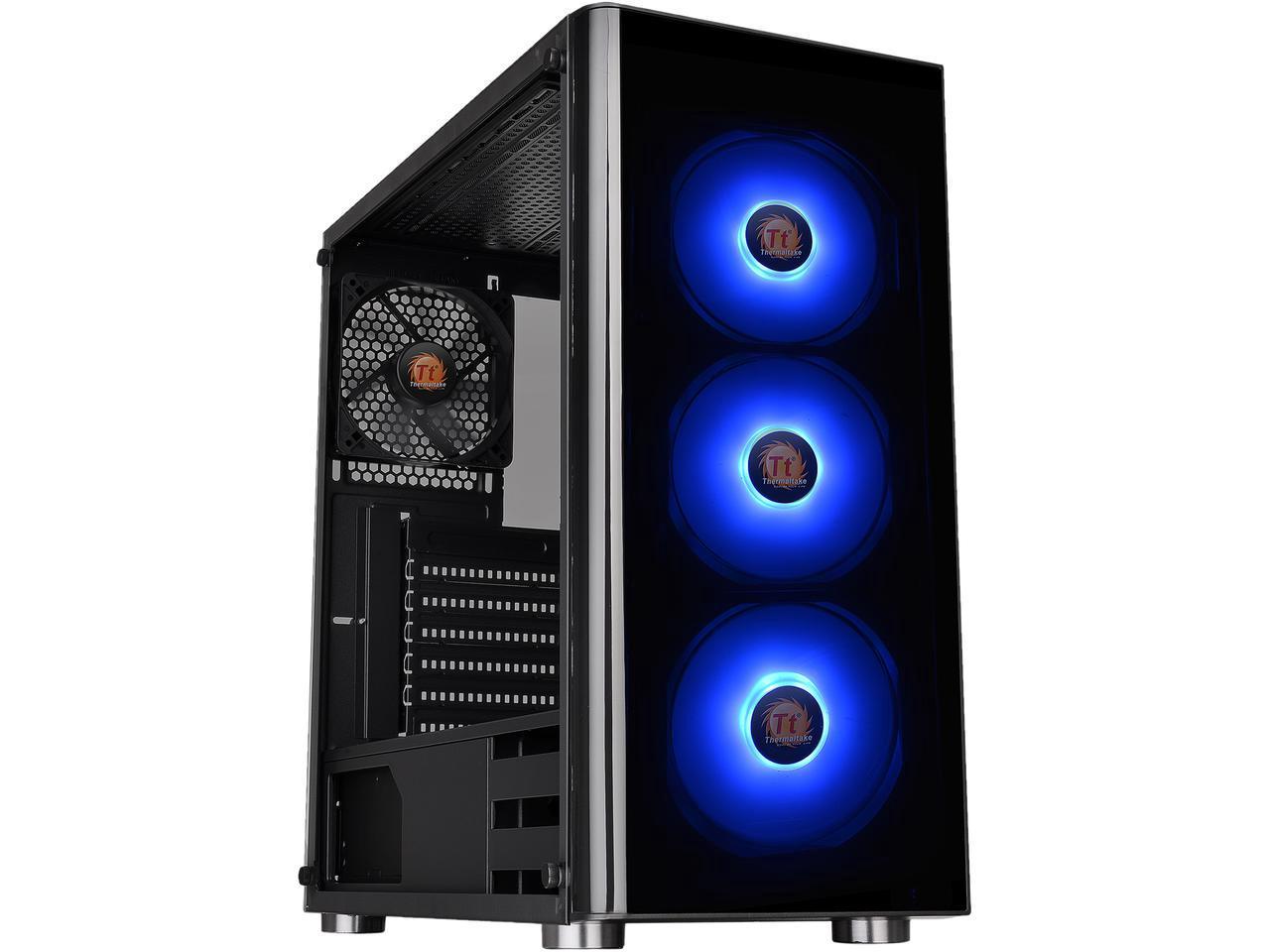 For more Gaming Pc build visit Hankerz Gaming