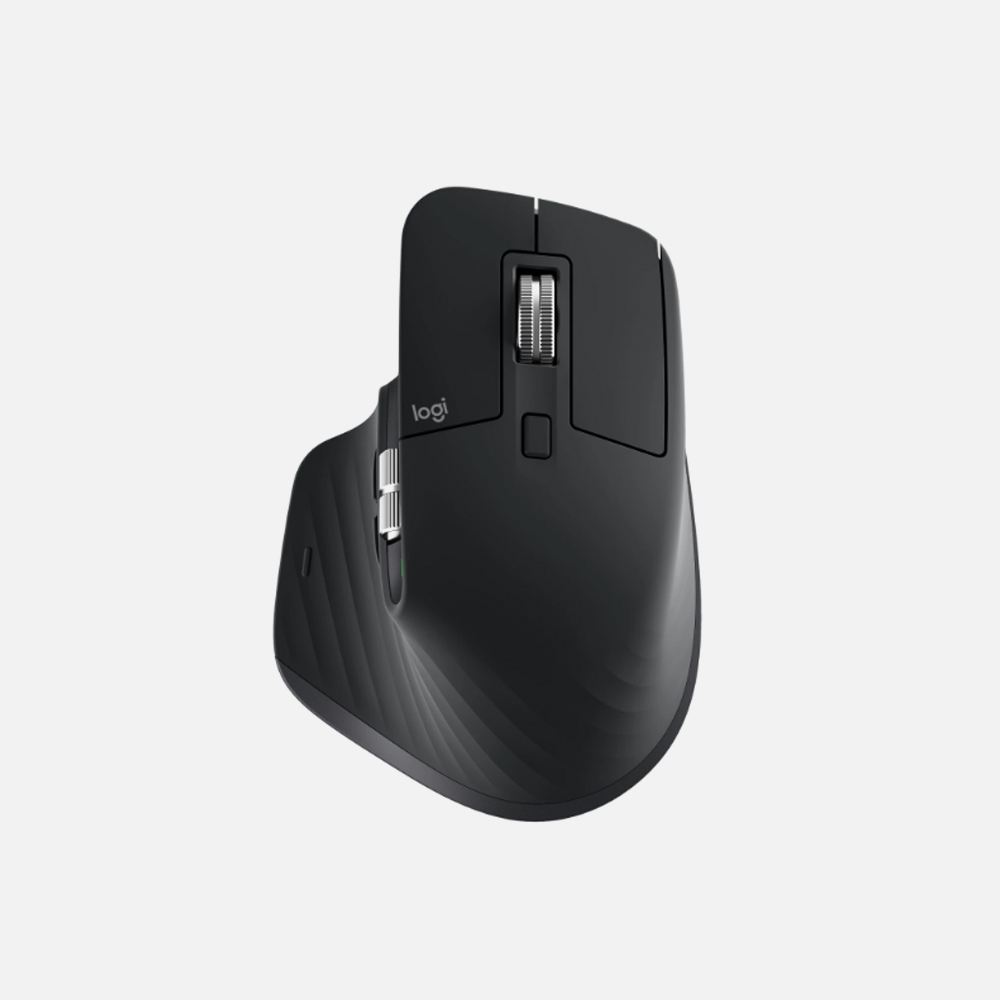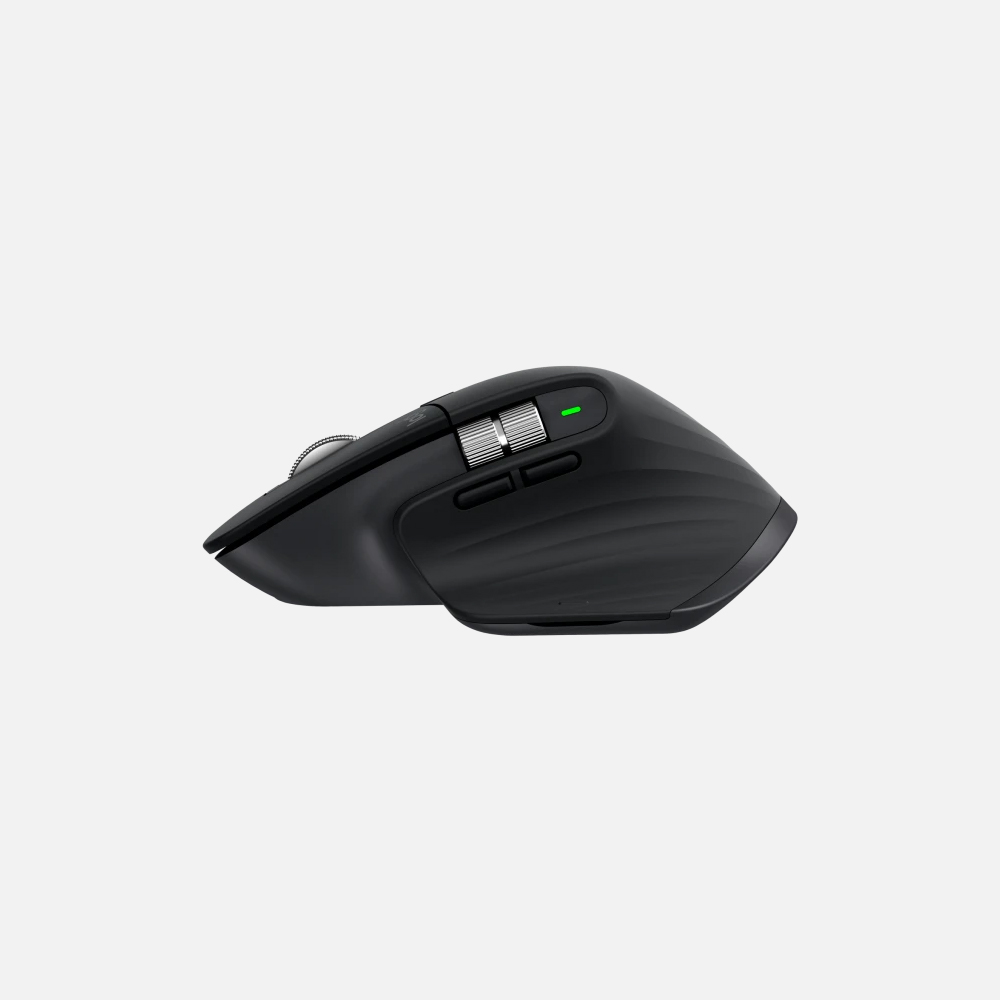 Logitech® MX Master 3 Advanced Wireless Mouse – BLACK – 2.4GHZ/BT – GPT
4800 EGP
Sensor: Darkfield high precision
Weight: 141g
Dpi: 200-8000 DPI
Battery life: 70 days
Warranty: 2 years  
Charging type: Type-C
Compare
Description
How to Order
Reviews (0)
Description
How is it precisely made for your productivity?
The MX Master 3 advanced mouse is your top choice for reaching the level of productivity you desire, by making your workflow smoother, faster, and manageable, but how will it? let us know more about the points of success of the MX Master 3 advanced that can remarkably increase your daily output.
Gestures
The MX Master 3 advanced gestures button can be used as your multimedia button, as you can hold it down and move your mouse in the 4-pole directions to make different shortcuts on your desktop such as Task View (PC), Mission control (MAC) / Switch between desktops /and App expose, which all comes as a default usage for the gestures button, you can also infinitely customize the gesture motions and what do you want every motion do in your device with,
Logitech options
which is the software for the mouse, by installing the software it will automatically identify which app are you using,
enabling you to not just customize the gestures, but also customize the side buttons as the,
horizontal scroll wheel
at the left side of the MX Master 3 advanced which can be used in just scrolling and also for serious combinations in your daily applications, such as,
Excel, PowerPoint, and Word. the MX Master 3 advanced has options for you with default profiles and also customizability for every button in your usage for the applications,
Also, if you are a content creator using Adobe Creative Cloud applications such as Adobe Photoshop, Adobe Premiere Pro, or any other video editing app, as same as the previous applications the Logitech options come with default shortcuts profile for these applications to make your usage easier and much more productive,
browsing, video conferences, and many other applications, you can customize every application with suitable shortcuts to make your working space a comfortable place to be productive.
So, in terms of productivity, Logitech succeeded with their MX Master 3 advanced mouse.
The comfort factor.
The MX Master 3 advanced is designed form crafted for the shape of your hand, making it comfortable and natural suiting your hand on the mouse, which accordingly allows you to work more hours without fatigue.
3 devices connectivity.
The MX Master 3 advanced allows you to connect with 3 devices with different operating systems support such as Windows, macOS, Chrome OS, or Linux, and switch with them with a simple click on the button at the bottom of the mouse, the 3 LED lights show the number of connected devices that the mouse is currently operating on, the button thing is slow, right? so,
Logitech options, again with even better features. 
When you set up the application on 2 different devices and even different operating systems, it allows you to flow your mouse between them as they are a dual-screen setup, also with the ability to copy and paste from one device to another, so you can now transfer text, images, and files between computers – just copy on one and paste to the other.
So, you can now use your PC and your laptop to boost your productivity rate with the same mouse, and productivity powerhouse, isn't it?
Electromagnetically manufactured to scroll 1000 lines per second. 
The main and default scroll wheel for the MX Master 3 advanced is quietly impressive, you can set the mode of the scroll wheel whether you want it free scrolling, which you can scroll 1000 lines in 1 second, which will be a really big benefit if you use excel sheets with a lot of rows or the basic controllable scrolling,
you can choose the scrolling mode with the button below the scroll wheel, and the point of focus here,
70 DAYS without charging and 3 hours of usage for 1 min charge.  
The MX Master 3 advanced comes with a USB TYPE-C port with the cable included, and on a full charge the battery can last up to 70 days without charging which is exactly what you need as a user for this mouse to stay consistent on your productivity rate without the hassle of charging your mouse,
you can also charge it for 1 minute and get 3 hours of usage if the battery is dead, this specific feature is as important as the morning coffee, it gives your day the push it needs, and you also don't have to power it off every time you finish your usage because it automatically goes on sleep mode to save your battery and your setups so you can get back to your focus faster.
Any surface compatibility.
The MX Master 3 advanced is suitable to track on virtually any surface even glass, thanks to the 4000DPI sensor resolution that offers 5x more precise experience than other normal mice, so you are not dedicated to taking the mouse pad with you everywhere, the mouse would be enough.
The MX Master 3 advanced isn't just about buying a mouse, it's about buying a tool that can effectively make a difference in your workspace to make you more productive to improve your overall workflow.
Place your order and own your tool.