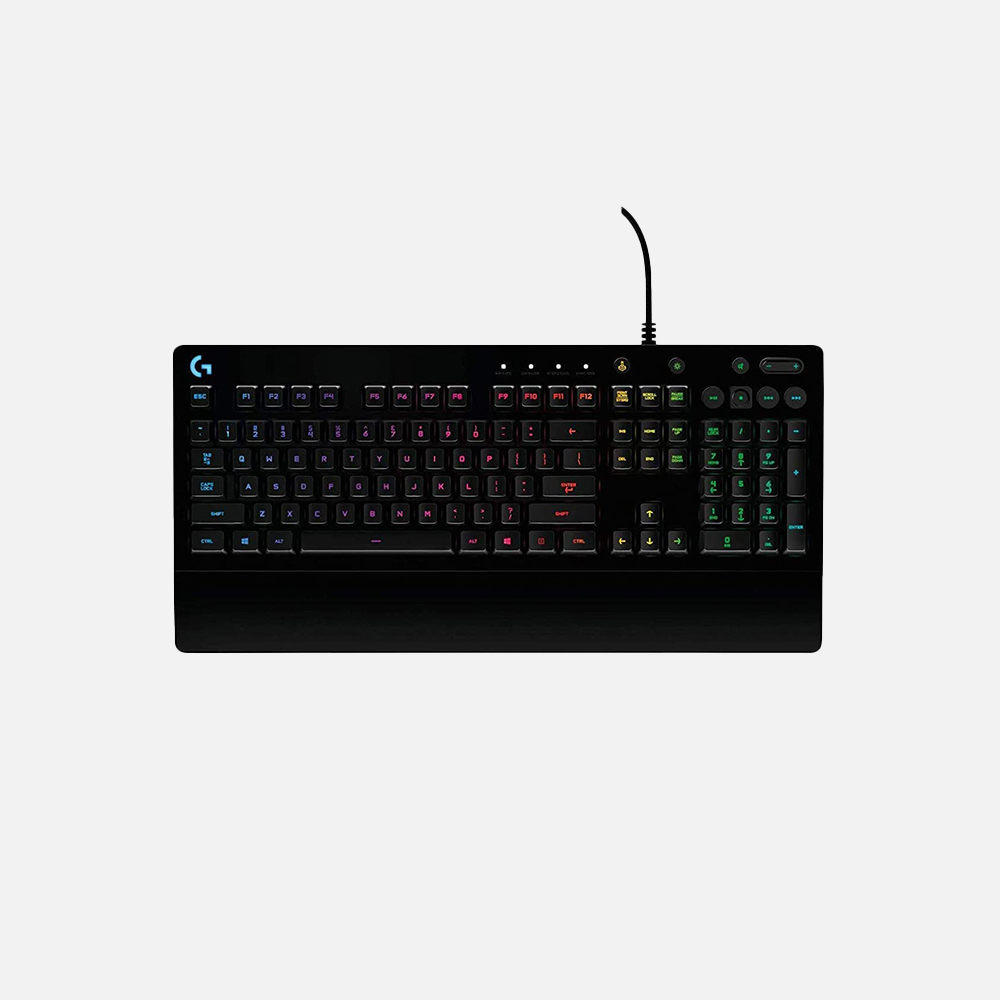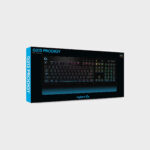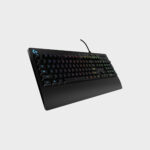 Logitech G213 – Gaming Keyboard Prodigy US International layout
1550 EGP
Switches: Tactile Mech-Dome
Keyboard's weight: 1kg 
Warranty: 2 years
Color: Black
Compare
Description
Additional information
How to Order
Reviews (0)
Description
Mechanical keyboards aren't for everyone. 
Mechanical keyboards have great roles to play in your gameplay, as well as their shape and sound of the switches, BUT, this might not be suitable for you if you prefer low noise and more focus if you want a keyboard for work and also for casual gaming if you are even a professional gamer but you don't want that noisy sound of the blue switch or the hard typing sessions with the Red switches,
So, here comes your solution for today and forever with only 1550EGP, The Logitech G213 Prodigy, this keyboard was released in September 2016 which means that the keyboard has been as a solid solution in the market for 7 years!
This is a reasonable thing due to the specs of the keyboard, Mech-Dome keys that are specially tuned to deliver a superior tactile response and overall performance profile similar to a mechanical keyboard. Mech-Dome keys are full height, deliver a full 4mm travel distance, 50g actuation force for you as a gamer, a quiet sound operation, and a full black color design that will be suitable during your working hours.
features five individual lighting zones, each customizable from a palette of approximately 16.8 million colors and different brightness levels to match your style, system, or space. LIGHTSYNC technology provides next-gen RGB lighting that synchronizes lighting and game profiles with your content, you can also turn it off when it's time to work outside or focus, customize it all quickly and easily using Logitech G HUB.
G Hub. 
The G hub is the most impressive software that you can ever deal with in your daily usage of your Logitech's accessories, With the ability to control your headphones, mouse, and keyboard, and program each specific programmable feature or keystrokes and save your profiles, you can also control your RGB if you own RGB Logitech's accessories and sync the whole setup lighting, talking about our product for today which is the 213 prodigy,
You can control your lighting as you can switch between modes of lighting or choose a single light from 16.8 million colors, as well as you can customize the 12 function keys and program them to cater to your needs, and dedicated media controls that can be used to play, pause, and mute music and videos instantly. Adjust the volume or skip to the next song with a touch of a button.
also, you can save profiles for different games and easily switch between them, and for added gaming control you can choose the keys to disable during your gaming session as the Windows button which all of us as gamers have a special and specific hate for.
Trust me, it's all about comfort and durability.  
Logitech is one of my favorite brands for accessories as they care about comfort, which is key for getting the most out of you during your work or even during your gaming sessions, so in the G213 Prodigy, Logitech designed the keyboard with attached palm rest relieves discomfort or fatigue, with The two-level angle adjustment lets you set your keyboard so it feels just right for you up to 8 degrees for more ergonomics, so comfort is guaranteed.
Delivering spill resistance tested to 60ml liquid rating, adding more durability for your keyboard in case you were having your drink while sitting on your PC or laptop,
But don't immerse it in liquid, trust me you are not going to like it.
Logitech's warranty.
With 2 years of authorized local warranty from Logitech, it's time to place your order.
You now have got the chance to own a keyboard that is 4x better than the normal keyboards, so don't you think it's time to order?