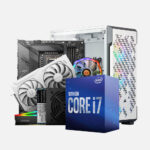 High end gaming pc build
37000 EGP
Componants:
Processor:i7 10700KF
Motherboard :Z590-Aorus Pro AX
Vga :Zotac RTX 3070 White Edition 8GB
Ram: Aorus 2x8GB DDR4 3333MHZ
SSD :TEAM M2 MP33 GEN3 NVME 256G
Case + PS :Corsair 220T + 750W Bronze
Cooling:UX200 ARGB Lighting CPU Cooler

Compare
Description
How to Order
Reviews (0)
Description
i7-10700KF Gaming PC Build
Proccessor
i7 10700KF
Do you have a need to edit videos and photos, or render 3D models? Or are you just trying to enjoy the latest gaming experience? Whatever you do,The i7 10700KF is a high-end gaming processor with 8 cores and 16 threads, So it's flexible enough to handle it. It can handle a wide range of workloads from video editing, rendering 3D models and animations, all the way up to playing games at 4K resolution.

Motherboard
Z590-Aorus Pro AX
The Z590 AORUS PRO is a high-end ATX motherboard, equipped with extreme gaming and overclocking features. The support for two M.2 drives and 4 slot for Ram allows for more inovative possibilities. With excellent cooling, audio and storage options, it is a full package for everyone starting to use the high end in their computer system

VGA
Zotac RTX 3070 White Edition 8GB
Get your streaming performance to the next level with the RTX3070. This powerful graphic card supports resolutions up to 8K on 60Fps and 4K at 120Fps, allowing you to view all your content without experiencing any lag. It comes with second generation ray tracing cores that deliver fast and efficient rendering for high-quality graphics with more realism and movable objects can now have shadows cast that match their surroundings. The RTX3070 supports up to four independent monitors, which means you can multitask your favorite games, watch videos or stream live at the same time!

SSD
TEAM M2 MP33 GEN3 NVME 256G
This SSD is a great choice for gamers and streamers looking for high performance SSD at an affordable price.TEAM M2 MP33 GEN3 NVME 256G  is your SSD that offers a read speed of up to 1800MB/sec and a write speed of up to 1500MB/sec. It's 4x faster than a standard hard drive, It's highly reliable with no moving parts to fail or wear out, meaning you get a long-lasting drive that won't slow down over time. The slim form factor enables easy installation in laptops with limited space, so you can have the fastest CPUs possible in your next rig

Cooler 
UX200 ARGB Lighting CPU Cooler
Rip through the competition and take down enemies unseen with UX200 ARGB Lighted CPU Cooler. Equipped with a patented fan blade that enhances the airflow, this powerful cooling system ensures your computer is running at peak performance. Compatible with your motherboard and CPU, this unit also comes with adjustable RGB lighting that allows you to customise your gaming space to fit your style.
It's compatible with motherboards which support 5 volts for addressable RGB for Asus, Gigabyte, ASrock, and MSI.
In addition, the UX200 has approximately 16.8M colours which can be controlled by the motherboard software to offer an amazing colour experience.

Case + Power supply
This product is designed to cool all the components in your PC, and it has the six fans with a specific airflow: one inairflow and two outairflows.
Corsair's 220T ATX case has been designed to maximize space, allowing you to bring both your high-performance components and your gaming lifestyle together. It's built for users who are serious about their PC gaming experience, and with an ATX motherboard version that gives you room for expansion, it'll be ready for whatever set-up you choose.

For more Gaming pc build visit Hankerz Gaming