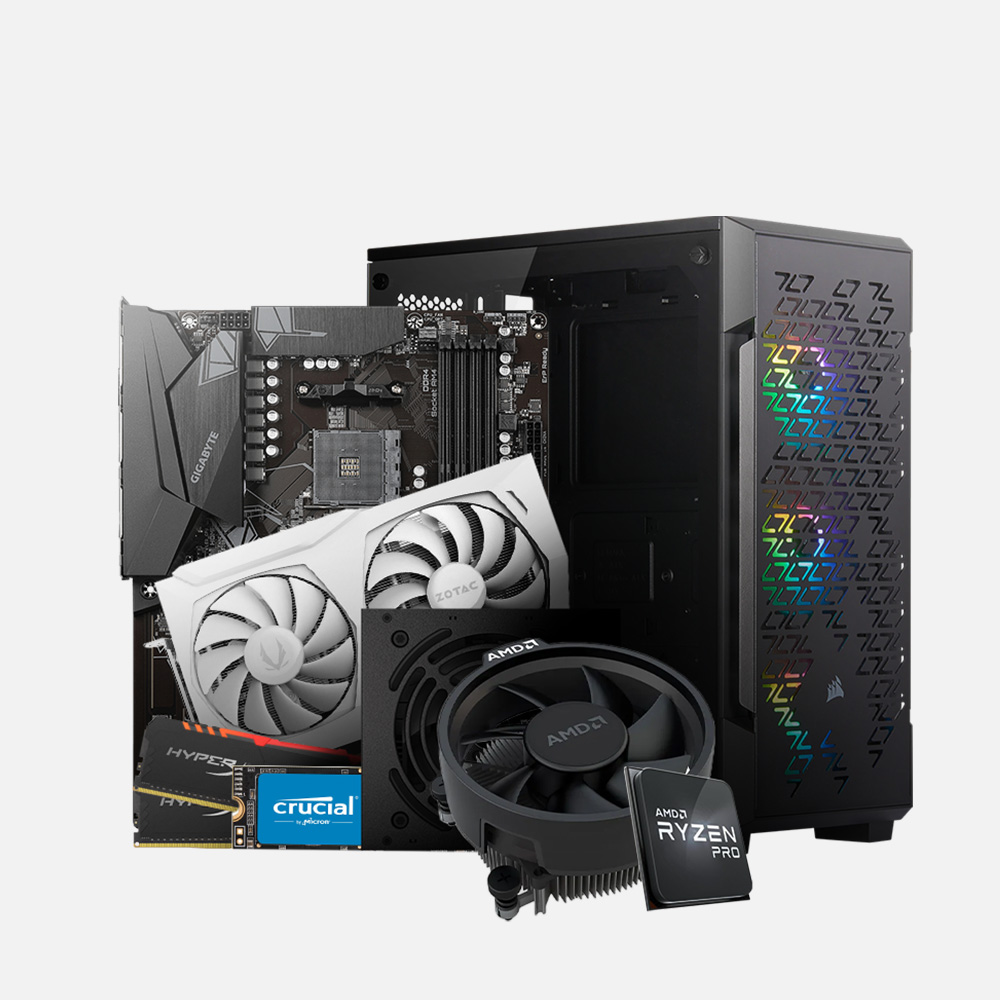 High End Gaming PC BUILD
34500 EGP
Componants:
Processor :Ryzen 7 5750G pro
Motherboard :Gigabyte B550 GAMING X V2
vga: Zotac RTX 3070 White Edition 8GB
Ram: 2x FURY 8GB 3200MHz RGB DDR4
SSD :CRUCIAL P2 NVME 250GB
Case + PS : Corsair 220T + 750W Bronze
Compare
Description
How to Order
Reviews (0)
Description
Ryzen 7  pro 5750G   PC build
Proccessor
Ryzen 7 5750G pro
If you like to play games or make videos, the AMD RYZEN 7 PRO 5750G TRAY is just right for you! This processor is built with 8 cores and a maximum clock boost of 4.6GHz so you know it's powerful enough to handle all your needs. Not only can you render content without lagging or sweating but also games will be run smoothly without dropping frames or crashing, the 5750G comes with internal graphic card which reach GTX 1050 performance so theree's no need to invest more money to add a VGA.

Motherboard
Gigabyte B550 GAMING X V2
GIGABYTE B550 motherboards maximize your PC's potential with AMD StoreMI technology. StoreMI accelerates traditional storage devices to reduce boot times and enhance the overall user experience. This easy-to-use utility combines the speed of SSDs with the high capacity of HDDs into a single drive, enhances the read/write speeds of the device to match that of SSDs, bolsters data performance for incredible value, and transforms the everyday PC to a performance driven system.

VGA
Zotac RTX 3070 White Edition 8GB
Get your streaming performance to the next level with the RTX3070. This powerfu
l graphic card supports resolutions up to 8K on 60Fps and 4K at 120Fps, allowing
you to view all your content without experiencing any lag. It comes with second
generation ray tracing cores that deliver fast and efficient rendering for high-quality
graphics with more realism and movable objects can now have shadows cast that match their surroundings. The RTX3070 supports up to four independent monitors,
which means you can multitask your favorite games, watch videos or stream live at the same time!
SSD
SSD CRUCIAL P2 NVME 250GB
Whether you're at work, in the game, or on the go, ordinary bootup speeds can frustrate your best laid plans. Good thing the Crucial® P2 SSD really flies. With plenty of storage and performance accelerated by NVMe™ technology, the P2 has the speed and dependability you need to explore your computer's potential.
Case + Power supply
This product is designed to cool all the components in your PC, and it has the six fans with a specific airflow: one inairflow and two outairflows.
Corsair's 220T ATX case has been designed to maximize space, allowing you to bring both your high-performance components and your gaming lifestyle together.
It's built for users who are serious about their PC gaming experience, and with an ATX motherboard version that gives you room for expansion, it'll be ready for whatever set-up you choose.
For more gaming pc build visit Hankerz Gaming