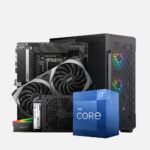 High END GAMING PC BUILD 3
39300 EGP
Components

:

Processor: Intel Core i7 12700
Motherboard: MSI Z690 A-PRO DDR4
Vga: MSI RTX 3070 8GB Ventus 2X
Ram :Aorus 2x 8GB DDR4 3333MHZ RGB
SSD:256GB P300 M.2
Case + PS: Corsair 220T + 750W
Compare
Description
How to Order
Reviews (0)
Description
Intel Core i7 12700pc build
Proccessor
Intel Core i7 12700
The 12 Gen Intel Processors are not just for regular desktop PCs, they are built to bring the most out of High-end gaming and video editing. This processor is made for people who work with heavy graphic design, video rendering and photoshop.
With 12 cores which divded to 8 cores for performance and 4 cores and 20 threads it is able to perform multi-tasking with ease. Your computer will never come to a grinding
halt when you are working on various programs or games at once.

Motherboard
MSI Z690 A-PRO DDR4
The MSI Z690-A Pro motherboard is a fully loaded gaming motherboard that perfects
your gaming experience with great design and performance. This board is engineered  to put your rig through its paces with no overclocking needed. It has all the bells and
whistles you need, and then some. With 5-Way Optimization, Game Boost technology,  and MultiCore Turbo you get the best of both worlds; fast response times in games AND faster system performance when loading apps or working on spreadsheets. The integrated audio boost will send sound waves directly. It also supports up to 128GB of DDR4 memory,
and allows you to overclock your processor when necessary. The built-in Overlay feature
supercharges your screen performance by providing real time data for games like Fortnite Battle Royale and Apex Legends

VGA
MSI RTX 3070 8GB Ventus 2X
The GeForce RTX™ 3070 VENTUS 2X™ is a dedicated graphics card with 4K performance
and next-gen display support that maximizes the latest content creation tools. With 14 Gbps
memory bandwidth, the card is capable of displaying content in 8k resolution at 30 FPS,
making it perfect for designers and content creators.

SSD
256GB P300 M.2
Patriot P300 M.2 NVMe
The Patriot P300 M.2 NVMe SSD is a powerhouse of technology, offering an amazing 1700MBps read and 1100MBps write speed. A great choice for those looking to upgrade
their set-up to the next level.

Case + Power supply
This product is designed to cool all the components in your PC, and it has the six fans with a specific airflow: one inairflow and two outairflows.
Corsair's 220T ATX case has been designed to maximize space, allowing you to bring both your high-performance components and your gaming lifestyle together.
It's built for users who are serious about their PC gaming experience, and with an ATX motherboard version that gives you room for expansion, it'll be ready for whatever set-up you choose.

For more Gaming pc build visit Hankerz Gaming