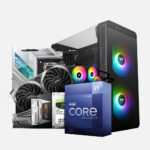 High END Content Creator PC BUILD 2
56750 EGP
Componants:
Processor:  Intel i9 12900KF
Motherboard :ROG STRIX Z690-A GAMING WIFI D4
Vga :RTX 3070 8GB
Ram: 4X 16GB Patriot VIPER 3200MHz DDR4
SSD :PATRIOT P300 512G NVME
HDD:2TB Seagate
Case + PS :View 37 ARGB Edition + 750W GOLD
Cooling:XIGMATEK Liquid Killer X 240 ARGB
Compare
Description
How to Order
Reviews (0)
Description
Intel i9 12900KF pc build



Proccessor
Intel i9 12900KF
The Intel Core i9-12900K is a powerful processor from Intel, delivering
high-end performance for those looking for extremely fast processing,
Intel Manufactured core i9-12900K which makes a boom in market due
to it's power, 12900K comes with 16 cores which divded to 8 cores for
performance and 8 cores for efficient and 24 threads this will take your
gaming pc to the max level.


Motherboard
ROG STRIX Z690-A GAMING WIFI D4
The ROG STRIX Z690-A GAMING WIFI D4 is here to give you the power
to rule the world in style. The appearance of this motherboard can't be compared
to others with its unique look. It's a perfect combination of the 12Generation
Intel processor and its cooling system. This will allow you to overclock and unlock
your core, in case you don't have a cooling system for your CPU already. It will surely
be cool when we test it out with our 8K at 60Hz display! Also, it has built-in Internet
capability via 802.11AC also known as WiFi which makes it a great combination of strong
wifi connectivity and speed plus best-in class graphic display capabilities inspired by gamers like you!

VGA
Zotac RTX 3070 White Edition 8GB
Get your streaming performance to the next level with the RTX3070. This powerful
graphic card supports resolutions up to 8K on 60Fps and 4K at 120Fps, allowing you
to view all your content without experiencing any lag. It comes with second generation
ray tracing cores that deliver fast and efficient rendering for high-quality graphics with
more realism and movable objects can now have shadows cast that match their surroundings.
The RTX3070 supports up to four independent monitors, which means you can multitask
your favorite games, watch videos or stream live at the same time!

SSD



Patriot P300 M.2 NVMe
The Patriot P300 M.2 NVMe SSD is a powerhouse of technology, offering an amazing
1700MBps read and 1100MBps write speed. A great choice for those looking to upgrade
their set-up to the next level.


COOLER
XIGMATEK Liquid Killer X 240 ARGB
XIGMATEK is proud to introduce Liquid Killer to the public with a good cooling
performance, as well as a modern and stylish design. With two 120mm ARGB fans,
it allows you to change the cooler's color according to your will. Liquid Killer uses metal
fins, so it does not only have great heat dissipation but also adds beauty to your case.
Be sure that if you have a heavy duty system with 3D rendering or gaming applications,
Liquid Killer can always offer you an incredible experience!

Case + Power supply

Tt View 37 ARGB Edition + 750W GOLD
It is amazing, come and see. The View 37 ARGB Edition is an E-ATX case that comes
with pre-installed two fans in front and one in rear with approximatly 16.8M color that adjusts
as you want in your lightning room, it also has a button that changing the color with up to 30 modes.
The windowed side panel brings a breath of fresh air to your PC. The View 37 is made for gamers and
enthusiasts, who want to show off their gear without sacrificing performance or functionality.


For more creator pc build visit Hankerz Creator