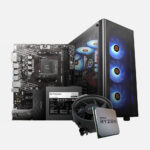 Entry gaming pc build 3
9250 EGP
Componants:
Processor: Ryzen 5 PRO 5650G Tray
Motherboard: MSI-A520M-A PRO
Ram: Patriot VIPER 8GB 3200MHz DDR4
SSD: PNY CS900 120G 2.5 SATA III
Case+PS: Thermaltake V200 + 600W
Compare
Description
How to Order
Reviews (0)
Description
Ryzen 5 PRO 5650G Tray Pc Build
Proccessor
Ryzen 5 PRO 5650G Tray
AMD paves the way for the future of high-performance computing. Never stop exploring.
Never stop learning. Never stop creating. Introducing the Ryzen 5 PRO 5650G bring with
it the reliability of AMD's state-of-the-art technology with a combination of 6 cores and
12 threads which handle your bugdet so as a gamer or a content creator no need to vga to your build,
a new class of processor for the next generation of computing. Unlocked and overclocking ready,
it enables you to master your dreams.

Motherboard
A520M-A PRO
The A520M-A PRO is a great choice for gaming. It features 3rd genration of rayzen proccessor
and rayzen 4000-G series with support up to 4K resolution. The motherboard supports DDR4 memory,
which can be overclocked up to 4600MHz. With 4 slots for SATA and and 1 slot M.2, you will never run out of storage space!

SSD
PNY CS900 120G 2.5 SATA III
Give your hard drive a serious performance boost with the CS900 2.5-inch SATA 3 SSD.
The CS900 SSD is plug & play, making it easy to replace your old or slow HDD in just minutes.
You'll notice a significant improvement in system performance and computer responsiveness – up to 30 times
faster than an ordinary HDD.

Case + Power supply
thermaltake V200 Tempered Glass Edition
The Thermaltake V200 Tempered Glass Edition is a sleek and stylish case featuring
a single 120mm high performance fan offering basic cooling for system components.
No more struggling with cable management! Thermaltake V200 Tempered Glass Edition
case is designed to keep everything neat and tidy, with plenty of adjustable storage space it
makes storage easy. The large size tempered glass panels on both sides improve the lighting
as well as giving you an enjoyable view of your system at all times without opening the side window.
There is also a dust filter for each fan included to help keep your set up clean and cool.
With support for ATX motherboards and an amazing airflow system, V200 Tempered Glass Edition is all you need for a great experience!

 For more Gaming Pc build visit Hankerz Gaming