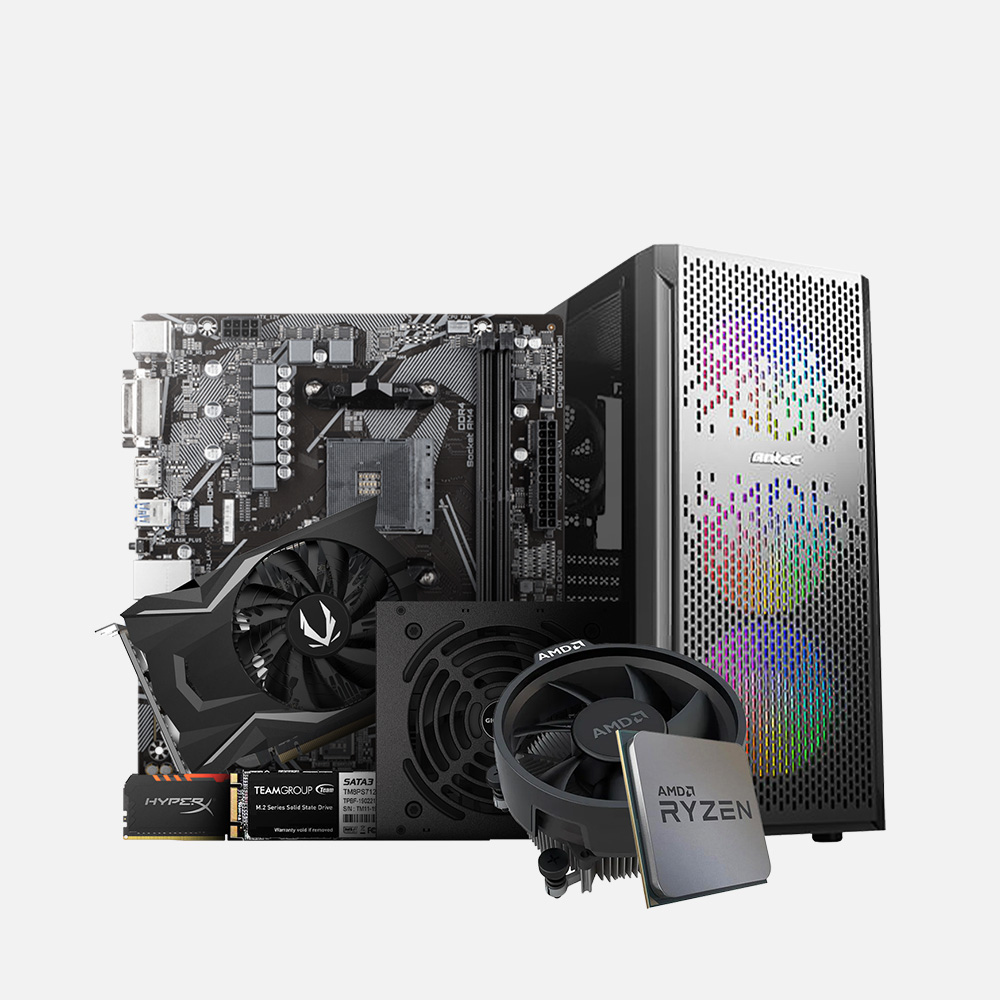 BUDGET GAMING PC BUILD
12200 EGP
Componants:
Processor: Ryzen 3 4100 MPK
Motherboard: Gigabyte A520 H
Vga: ZOTAC GTX 1650 4G
Ram: 8GB 3200MHz DDR4
SSD:128GB Team SATA III M.2
Case+PS: Antec NX290 + 550W
Compare
Description
How to Order
Reviews (0)
Description
Ryzen 3 4100 MPK pc build
Proccessor
Ryzen 3 4100 MPK
The AMD Ryzen 3 4100 is an entry level desktop processor with 4 physical cores
and 8 threads, which makes it perfect for multitasking and allowing you to play esports
games up to 240 fps, The base frequency is 3.80 GHz and can boost up to 4.0 GHz,
providing plenty of power to handle your daily workloads while still leaving enough
headroom for those big tasks like video editing or games


Motherboard
Gigabyte A520 H
GIGABYTE UD series motherboards use a 4+3 phases pure digital PWM + Low RDS(on) MOSFETs design to support the 3rd Gen AMD Ryzen™ CPUs by offering incredible precision in delivering power to the motherboard's most power-hungry and energy-sensitive components as well as delivering enhanced system performance and ultimate hardware scalability.


VGA
ZOTAC GAMING GeForce GTX 1650 OC is the powerful graphics card that gives you
incredible performance in your favorite games. Powered with 1725MHz Boost Clock,
4GB GDDR5 Memory and 90mm Fan Cooling System that optimized to balance cooling
and acoustics, this graphic card is designed to provide outstanding performance while gaming.
With this amazing speed and quality, ZOTAC GAMING GeForce GTX 1650 OC is made for gamer s who need an ultra-fast solution to meet their most demanding gaming needs for 4K resolutions
or media streaming on multiple monitors at once!

SSD
128GB Team SATA III M.2
MS30 M.2 SATA solid state drive uses the latest SATA III 6Gb/s transfer interface and offers excellent transfer efficiency and compatibility. For different environment usage, MS30 comes in two sizes, 22x80mm and 22x42mm, and both of them are fully compliant with the M.2 specification. In addition, the capacity is increased to 2TB, which is capable of satisfying all kinds of specification requirements for motherboards, laptops, mobile devices and developing embedded devices.

Case + Power supply
Antec NX290 + 550W
The NX290 mid-tower gaming case effortlessly combines a bevy of in-demand features: USB 3.0 connectivity, ample storage drive bays, room for expansion, and includes 3 x 120mm fixed mode RGB fans in front and 1 x 120mm fan in rear. With support for up to a 360 mm liquid cooling radiator in front, NX290 is easy to build with and easy to cool.

For more Gaming Pc builds visit Hankerz build