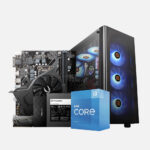 Best budget gaming pc build
11600 EGP
Componants:
Processor: Intel Core i3-10105 BOX
Motherboard : GB-H410M-H-V3
Vga: ASUS GTX 1650 4G
Ram: Patriot VIPER 8GB 3200MHz DDR4
SSD: PNY CS900 120G 2.5 SATA III
Case+PS: Thermaltake V200 + 600W
Compare
الوصف
How to Order
مراجعات (0)
الوصف
i3 10105 Gaming Pc 
If you are a big fan of the ESports "Shooting Games", now you will be able to get a number of headshots without any drop frame thanks to the compatibility that we made by Hankerz specially for you. You will be able to play with your friends and enjoy the best gaming experience ever, let's reveal to you the details of the assembly in detail.
Proccessor
intel core i3 10105
The intel 10105 is intel's most powerful low-budget processor made recently,
4 cores and 8 threads allow you to smoothly play games and at the same time
with a built-in graphics card for some light gaming it can run even most Esports
games at 60 fps or higher. The 10105 easily beats ryzen 3100 due to base frequency of processor,
graphics and gaming performance combined with price point make this particular model something that offers quite a bit in value

.
Motherboard
GB-H410M-H-V3
Take your combatbile set up to the next level, with H410 motherboard support 10th gen of intel processors.
New groundbreaking cooling solution will ensure your system runs cooler and more efficiently
with 4 temperature smart fans pop up a message if there is any high temperature and 2 hybrid fan which
work with each other if the system is still high in tempreature it's suppoort also 4K resloutions which takes
your gaming vision to the next level, it can handle the most demanding games out there.

VGA
ASUS GTX 1650 4G
Upgrade your gaming experience with the power of a GeForce GTX 1650. With 4GB GDDR5,
this graphics card is perfect for gaming and entertainment on max settings at 1080p. The powerful 2 fan cooler
also enables you to play for hours without worrying about overheating.
With the high-end NVIDIA® G-SYNC™ technology, it eliminates screen tear and stuttering in your games

SSD
PNY CS900 120G 2.5 SATA III
Give your hard drive a serious performance boost with the CS900 2.5-inch SATA 3 SSD.
The CS900 SSD is plug & play, making it easy to replace your old or slow HDD in just minutes.
You'll notice a significant improvement in system performance and computer responsiveness – up to 30 times faster than an ordinary HDD.

Case + Power supply
thermaltake V200 Tempered Glass Edition
The Thermaltake V200 Tempered Glass Edition is a sleek and stylish case featuring a single 120mm high performance fan offering basic cooling for system components.
No more struggling with cable management! Thermaltake V200 Tempered Glass Edition case is designed to keep everything neat and tidy, with plenty of adjustable storage space it makes storage easy.
The large size tempered glass panels on both sides improve the lighting as well as giving you an enjoyable view of your
system at all times without opening the side window. There is also a dust filter for each fan included to help keep your
set up clean and cool. With support for ATX motherboards and an amazing airflow system, V200 Tempered Glass Edition is all you need for a great experience!

For more Gaming Pc builds visit Hankerz build